Thomas Howard – Attorney Peoria IL
Licensed to practice since 2008, Thomas Howard has represented numerous financial institutions in litigation to enforce their security interests.  Since 2018, he has helped numerous cannabis companies with their hemp farms, to licensing applications in the adult use cannabis industry.
He helps community banks in complex commercial workouts involving some of the most sophisticated financial products in the banking industry.  He has also litigated in contested contract cases on various legal theories.
A Peoria, IL attorney recognized by Super Lawyers & Leading Lawyers
After nearly ten years of practicing law with his father, Mr. Howard started the Collateral Base to bring sophisticate corporate and commercial law into the 21st century by shaking up the current corporate culture that makes so many lawyers regret going to law school and have terrible work/life balance. 
To assist downstate community banks with flat fees for uncontested litigation, he has designed and built the Collateral Base website, where he publishes regularly on security interests and offers his flat fee menu of services.  He also built automation systems into his bank litigation practice to facilitate his flat fee offerings.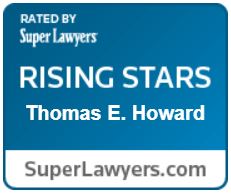 Uniform Commercial Code issues, replevins, guaranty actions, and bankruptcy. He has successfully resolved numerous multi-million dollar non-performing loans for many community banks throughout Illinois.  As a result of his efforts, Mr. Howard earned Rising Stars by Super Lawyers, and as an Emerging Lawyer by Leading Lawyers from 2015 to 2018. Only two percent of attorneys ever receive such distinction.
Mr. Howard represents financial institutions and business creditors in commercial litigation and bankruptcy matters.  He has a broad experience in real estate mortgage foreclosures, replevins of personal property and  suits on notes and guaranties.  He also represents creditors in loan workouts and in bankruptcy matters to enforce their rights.
Thomas Howard Lawyer & Web Developer with SEO Skills.
Thomas Howard also develops websites and various software applications for his legal career.  WorkVisas.Solutions  expands his offerings to businesses that have corporate immigration needs to keep the world's best talent working in the United States.
Mr. Howard is a member of the American Immigration Lawyers Association (AILA) and sits on the Illinois State Bar Association's (ISBA) section council on Immigration Law.
Mr.Howard owns a tech company named Stumari, which he uses to expand his service offerings into the issues faced by tech companies in their privacy policies, terms of service, contracts with developers, business formation and fundraising issues.
Additionally, he builds websites for lawyers and businesses seeking to get more clients from internet traffic.
Mr. Howard advises businesses and financial institutions in the the incipient marijuana industry. He frequently publishes articles on the same and has even published a book on the history of the marijuana laws.
Illinois Cannabis Lawyer
He often posts YouTubes regarding issues faced by the cannabis industry, and advocates for allowing cannabis businesses to access banking services by dropping cannabis from the Controlled Substances Act, which requires an act of Congress.  To further develop his cannabis practice and help the state of Illinois transition from medical to full adult use of cannabis, Mr. Howard designed and built CannabisIndustryLawyer.com.
Thomas Howard is admitted to practice in:

The State Of Illinois
State Of Wisconsin
United States District Court For The Eastern District Of Wisconsin
Central District Of Illinois,
NorthernDistrict Of Illinois,
Southern Districts Of Illinois.

He is a member of the ISBA's Standing Committee on:

Immigration Law,
Judicial Evaluations Outside Of Cook County, And
Commercial Collections, Banking And Bankruptcy.
Thomas Howard received his B.A. from Illinois Wesleyan University in 2002 and J.D. from Marquette University Law School in 2008. After completing law school he earned his Series 7 & 66 securities licenses and briefly worked as a stockbroker before using his law degree to work through the mortgage foreclosure crisis from the market crash of 2008.
In 2013 he began building software.  By 2018, Mr. Howard blended tech into his practice by building websites like this one.  He spends his free time practicing yoga, and improving SEO and user experience – and building digital marketing campaigns for his company, Stumari.
Questions?
Each day, I answer one free question regarding legal issues.
Ask yours today.

Thomas Howard was on the ball and got things done. Easy to work with, communicates very well, and I would recommend him anytime.
R. Martindale
Call our law offices with your legal questions for help on:
business contract disputes
cannabis business
fraud actions
mechanic's liens