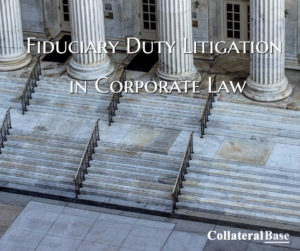 A fiduciary duty is an obligation that exists in a relationship in which one of the parties has the best interest when acting on the other party/es behalf. 
There are multiple types of fiduciary duties. Some examples can be the obligations between lawyers and clients; shareholders and directors; between business partners; and many others where special trust is part of the nature of the relationship, or a reliance on the one party exists to exercise its expertise or discretion on behalf of the others. 
Breaches to fiduciary duties are extremely common, especially in corporations. Here are all the details you should know about fiduciary duties and what to do when you have to appeal to litigation because a breach has occured.
Fiduciary Obligations
A fiduciary duty consists of two main fiduciary obligations.  
Duty of loyalty, the fiduciary prefers the beneficiary's interests to his or her own 

Duty of care,  the fiduciary acts as a reasonably careful person would act under the same or similar circumstances safeguarding the beneficiaries' interests.
Depending on the state's legislation other duties such as the duty of good faith and the duty of acting according to law can also be considered. The failure of either of these duties may result in fiduciary duty litigation.
Who Is Part Of This Relationship
Fiduciary:

The person who holds the

obligation that exists in the relationship, having best interest when acting on the other partiy/es behalf

Principal: The person

to whom the fiduciary owes the duty
Who has fiduciary duties?
These are the persons the law denominates as fiduciaries, keep in mind states may differ in these considerations:
Partners: Business partners in a partnership owe each other a fiduciary duty. Some of these duties are to account for profits, property, opportunities, or other benefits derived by the partner, and to abstain from competing with the partnership.

LLC Managers: A duty to account to the LLC, and hold any property, profit or LLC benefit, as a trustee for the LLC; and, A duty to abstain from competing with the LLC; to refrain from negligent or reckless conduct, intentional misconduct, or knowingly violating the law.

Corporate Directors: T

he board of directors of a corporation owes duties to the corporation itself, and the shareholders. Directors must act in the best interest of the corporation and the shareholders

Corporate Officers: 

the fiduciary duty requires officers to apply their best business judgment, to act in good faith, and to promote the best interests of the corporation.

Controlling Stakeholders: As Someone who has a legitimate interest in serving the company so that the company performs well overall their duties are similar to the corporate officers one, as they may take decisions in the name of the company.
Breach of Fiduciary Duty
Breaches of fiduciary duty happen when a binding fiduciary relationship is in effect and actions that are counterproductive to the interests of a specific client are taken, to benefit the fiduciary's interests or the interests of a third party instead of a client's.
A breach can also come from a failure to provide critical information that may lead to misunderstandings, or misinterpretations. Identification or disclosure of any potential conflicts of interest is important in fiduciary relationships because all types of conflicts can be a source for undesired intentions.
Elements Of a Breach Fiduciary Duty 
To be sure you have a case of breach of fiduciary duty, you must look for three essential elements: 
A duty existed, You must

determine if the specific relationship in question created a fiduciary duty under the law

A breach of the duty occurred: Y

ou must prove that a breach occurred and that the defendant acted on his own behalf instead of in the best interests of the other parties. 

Damages were suffered: Y

ou must prove that the breach caused harm and compensation is available. 
Most common breaches of fiduciary duty
There are many ways in which fiduciaries may breach their duties. The most common breaches of fiduciary duty include:
Self Dealing, through conflict of interest business, transactions for personal gain or personal economic profits.

Usurpation of business or corporate opportunity

Misappropriation of corporate funds and property.

Neglect, business imprudence, or lack of necessary business skill.

Deficiently acting in the business owners, shareholders, or members best interest.

Failure to provide accurate corporate information.

Breach of confidentiality.

Misuse of superior knowledge.

Giving inappropriate advice or counsel 

Abusage of superior or influential position.
Fiduciary Duty Litigation
When a fiduciary duty has been breached, those affected can consult with a corporate litigation attorney about filing a lawsuit. 
If you believe you have a case for breach of fiduciary duty,  you should really know all your options, don't forget litigation could worsen the situation.
While these types of disagreements need to be resolved, there are other alternatives, such as mediation. Be sure you consult it with an expert before making a final decision. 
Going to court can be time consuming, stressful and expensive and private disputes will become a matter of public record. All litigation processes are complex, and fiduciary duty litigation is not the exception.
You do not want to spend time and money going to court only to be unable to prevail and obtain the legal remedy you seek because you were unprepared, a fiduciary duty litigation attorney could make a difference in the result.
Key Points Of Fiduciary Duty You Should Know
A fiduciary is legally obligated to put their client's best interests ahead of their own.

Fiduciary duties appear in a range of business relationships, including a trustee and a beneficiary, corporate board members and shareholders, and executors and legatees, but also in many civil relationships.

You may have heard the term investment fiduciary before, and it is anyone with legal responsibility for managing someone else's money.

Fiduciary duties are both ethical and legal. 

A fiduciary must avoid any conflicts of interest between his own interests and the interests of the principal, as well as to avoid any conflicts that may arise between different clients of the fiduciary.
If you are looking for a Fiduciary Duty Attorney don't hesitate to contact us.
Whether this is your first land use issue or most recent, our office has helped people and businesses alike.
Thomas Howard was on the ball and got things done. Easy to work with, communicates very well, and I would recommend him anytime.